He was born Friday at 2:28 am
He weighed 7 lbs 14 oz and was 20-1/4 inches long.
Labor and delivery went well and only lasted about 5-1/2 hours. Chase had a bit of trouble breathing and had to have oxygen and his mouth and nose had to be deep suctioned out. My midwife thinks he may have swallowed a bit of fluid on his way out and that's what caused the breathing problems. He did start getting better that morning, and he was nursing really well, so she wasn't too worried after she got him to pink up and his sucking reflex going.
We went back to see her on Saturday, and she checked him over really well, and he's perfectly fine now. He is a bit Jaundiced from being 2 weeks early, but it's nothing a couple of sun baths a day, for a week or so won't fix.
He loves to eat, and he loves to sleep during the day, but not at night quite yet. However Saturday night was a lot better than Friday night. We'll have to work on getting his day's and night straightened out, but if that's the least I have to worry about with him than I am happy. :)
Gavin and Dylan love him, and want to hold him all the time. They are great helpers, and love to run and get me things for him. They didn't want to go to bed on Friday night, because they wanted to stay up and hold him. I had to convince them that he was still going to be here in the morning! I'm just glad that they are taking to him so well, and not fighting for my attention... yet that is. I have a feeling Dylan isn't going to like him being here so much after daddy goes back to work, and he doesn't have one of us paying attention to him all day. We shall see, I sure hope that won't be the case.

I am doing well, my uterus prolapsed, but nothing extremely serious. I do have to take it really easy, and I'm not allowed to vacuum, or mop for a month, and I cannot pick up Gavin and Dylan for at least 6 weeks. I have to lay on my stomach 3-6 times a day for at least 30 minutes and do kegle exercises for the next six weeks or longer to strengthen the muscles and keep my uterus where it's supposed to be. So basically I can't do a whole lot, and will probably go crazy over the next month and a half!

Here are a few pics of the boys with the new baby, and a link to some pictures my mom took on Friday.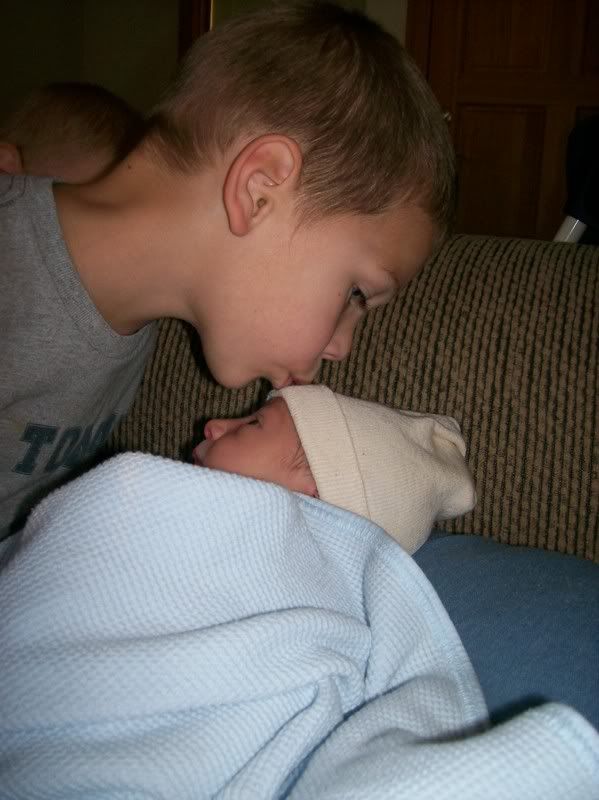 http://www.PictureTrail.com/gid18105448&pathID=1858113