Tuesday, November 18, 2008
Sunday, November 2, 2008
Boy was our halloween busy this year!
With Gavin and Dylan both being in school things were a little crazy. We had to make treats for Gavin's class, and I ran the games for Dylan's fall festival.
In the end I'm glad I helped out, but it was pretty tiring, and I felt like I was running all day Thursday!
Friday we didn't do much durring the day because I babysat, but we did have pumpkin shaped grilled cheese for lunch! Which all the kids ate a ton of! Why is it that when a sandwich is in a different shape they will eat more than a grown man could eat?
After all the kiddos got picked up we headed out to get started on filling up our pumpkin buckets!
Gavin was a Dinosaur: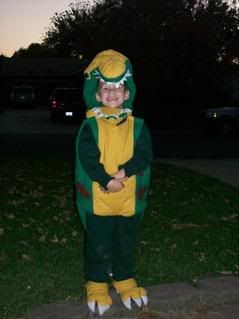 Dylan was a Dragon:

And Chase was a Monkey
(which got mistaken for a mouse several times... even by his own father!)

Our first stop was Anita and Brian's house.
Where we met the Fairies.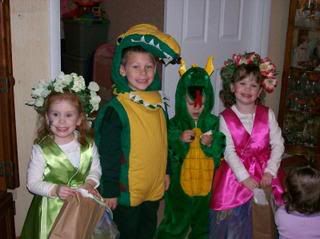 We hung around there for a bit and tried to get some good family picture... what were we thinking!

Anita and Brian's turned out pretty good I think.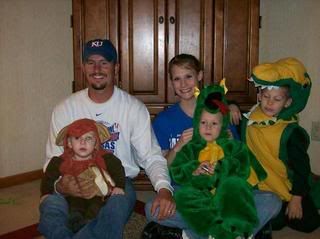 This one wasn't so bad. Gavin blinked, but it's still pretty decent.
But we had to try again...
Gavin was making sure he didn't blink again!
Then it was off to hit the houses. We got a ton of candy again this year! So this will be a no diet zone for quite some time... if you come over you must eat some candy-it's required!
It was the picture perfect trick-or-treating weather. Really, we couldn't have asked for a better night.