Easter was really fun this year. It's so neat to see he boys get so excited about the little things. Gavin has also been asking a lot of questions about Jesus, so we've been able to talk about the real meaning of Easter.
We got up, ate cinnamon rolls (mmm....), gave the boys their baskets,

finished getting ready for church. Then we decided to take some pictures before leaving for church. We usually do this out side, but since the weather decided to get all cold on us, we took them inside.
Of course they cooperated in the picture with dad, but not me... oh well, it depicts real life!


After church we went to Chris Grandma Greiving's house and ate lunch and watched the kiddo's hunt eggs. Then it was home to take naps and get things ready to go for my parent's house.
We ate dinner over there and they got to hunt more eggs! We have candy coming out of our ears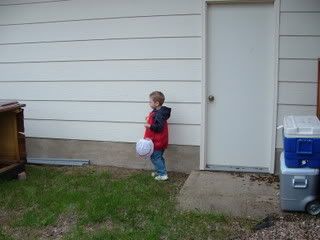 Before we hunted the eggs we tried to do a little photo shoot with the kids.. that was a joke! Try getting four kids 3 and under to all sit still next to each other and smile all at the same time! Not easy.. but the pics turned out cute, even though they were far from perfect. Here's a few...

So that was our busy Easter Sunday. It was really tiring, but there were a lot of memories good memories made.