Well, it's taken me a few days to actually blog about our ski trip, but it went really well. We had 18 people(including Chris and I) that were able to go. We were only able to get the church's 15 passenger van, and our four door Saturn to make the trip. We crammed nine pretty good sized teenage boys, one girl,two college students, and two adults into the van, and then we had two middle school girls in the Saturn with me and Chris. We did rent a U-Haul trailer for the luggage and food, so that that allowed a little more room for the people in the van.
Here's A picture of the people crammed into the van right before we left. Not the greatest, but I couldn't possibly fit everyone in! And there were those that just plain hid from the camera.
The mountains were breathtaking. And the weather was absolutely perfect. We arrived about 7:45 pm got everyone settled in their rooms and played a few games of "Catch Phrase". Which my team was winning, until Chris started to cheat! But of course if you ask him, he has a ton of explanations of why it wasn't cheating.... but it was ;)
We got up at 7:00 the next morning ate the continental breakfast and then we were off to get our gear at the rental place. Of course this was my fist time, so I was a bit freaked out, and had no idea what to expect. We get to the rental place to get our gear and the guy's like "what foot do you lead with" I was like (excuse me for using this word, but after being in a car for 13 hours with two middle school girls, it just kinda happens!) huh?" Then Chris said he leads with his left foot, so I decided that's what I would to as well. So we get everyone set up with their gear, and make sure everyone has wrist guards so we didn't end up with any broken arms, and head off to the mountain.
I had no idea that to even get to the ski lift, you have to go down this "mini" slope... but believe me, when it's your first time, that little mountain doesn't look so "mini"! I didn't take any pictures while on the slopes, because I was concentrating way to hard on staying on my feet! Plus if I tried, I probably would have fallen, then dropped my camera, and it would have gone down the mountain with out me, never to be seen again.
So I finally make it down this "mini" slope thing, and get to the lift. Well to get on the lift, you have to leave your lead foot in the board, take your back foot out, and do this funky little walk! Yeah it was pretty darn funny to watch I'm sure :) So I leave my left foot in (because I had decided that was my lead foot) and we finally get to the front of the lift line. We set down on the chair, and it starts to lift off. Well I didn't know how heavy this snowboard was going to be, and it ended up tweaking my knee really bad. I thought I was going to undo all the surgery that had been done on it several years ago. I freaked out, and it hurt from the weight that as being put on it. Thankfully Chris was able to reach it and switch it to my right leg. I was really worried that I wasn't going to be able to make it down the mountain because I had just messed up my knee. But thankfully once we got off the lift (which I'm sure would have been worth taping, because it probably would have won money on America's Funniest Videos.. yeah it WAS that bad!) and my boots were strapped in it felt a lot better. And boy! Leading with the right food made a huge difference!! I spent most of the first run sliding down the mountain on my kiester, but by the time we got down that slope, and made it up to the next one, I was doing pretty well, if I may toot my own horn a bit :D
By the end of day one, I was sooo sore! I wasn't sure that I was going to be able to go out the next day, but after sleeping I decided that I'd give it another try. I felt like such a wimp, I couldn't even get down that "mini" hill to get to the lift, I was so sore, and out of energy. So I headed back to the hotel room. But I'm so glad I did, because not a few hours after I went back most of the others came back too. It ended up snowing and I guess it was absolutely miserable. No one could see anything, and it was very cold, and wet. The snow was sure pretty though. It's amazing, the snowflakes look like cotton balls falling out of the sky. I should have taken a picture... but I didn't.
The third and last day one of the girls and I stayed in the hotel room and were lazy. Then we got up and went to Aspen, ate lunch, and looked around at a few of the shops. Got on the bus and headed back to the hotel to meet up with everyone else and watch the KU game.
We left about 7:00am Friday morning, and got back about 9:45/10:00 that night. My mom and dad kept were keeping the boys until Saturday afternoon, so Chris and I went to the late movie when we got back into town.
I highly recommend seeing "Reign Over Me". I think it's like a 3 hour movie, but it really didn't seem that long. Actually I had no idea how long of a movie it was until someone had mentioned it when I told them we went to see it.
Here are some random pictures from our trip...
Chris getting ready to show us his moves on the slopes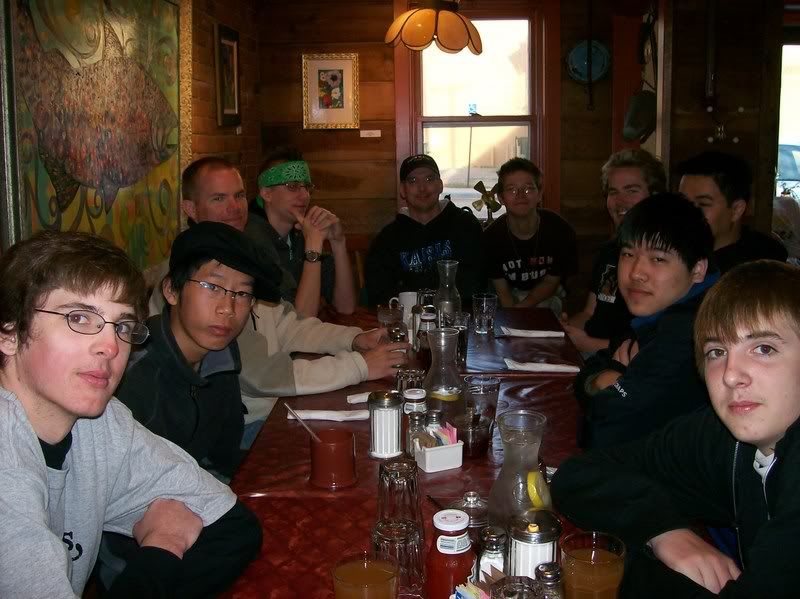 Eating breakfast in Colorado. Probably the best breakfast I've ever had. The name of the restaurant was Village Smithy's
mmmm.... see doesn't it look yummy!!