It seems like I don't have as much time to be able to sit and update this blog as much as I would like. So here's a brief summary of what we've been doing these last few weeks.
The boys got to spend some time with Nana and Pa-Pa two weekends ago and spend the night at their house. They were more than thrilled with that!
Chris and I had a bachelor/bachelorete party to go to. It was fun, but not something I want to do again for quite some time. Never having partied like that when I was younger I sure didn't realize how much it takes out of you!
Last Thursday we went shoe shopping with Grandma Alana to get new school shoes! Gavin was so funny, because for some reason, he had to have Sketchers... I didn't even know he knew brands of shoes! But obviously my children watch way to much TV!
Chris asked him why sketchers were cool, and he replied "because I wear them"... like duh! Guess we should've known that. Anyway, I think his shoes are ugly, but he likes them so I guess it doesn't really matter. Most of the shoes there were ugly anyway.
Dylan got a pair of red and white Nike's and they are not as ugly as Gavin's! The only up-side to Gavin's shoe choice is that they have those Z-straps, and no ties, so he can get his own shoes on!!! Yippeee!
Then last weekend Chris and I got the chance to go the Eldorado lake with Kevin and Tara (Chris' brother and his wife), and our friends Hai and Heather.
It was a lot of fun! Although I, being the clumsy one, getting off the boat the first time about 1 and a 1/2 hours after being there ripped my swim suit bottoms. They got caught on the hook that you tie the anchor rope to, and that was the end of those! Thankfully Heather had another swim suit with her that she let me borrow for the rest of the time.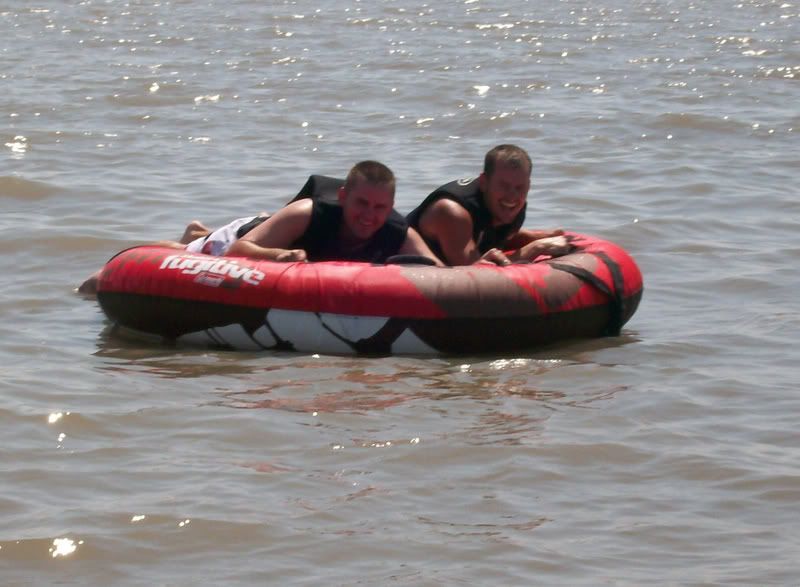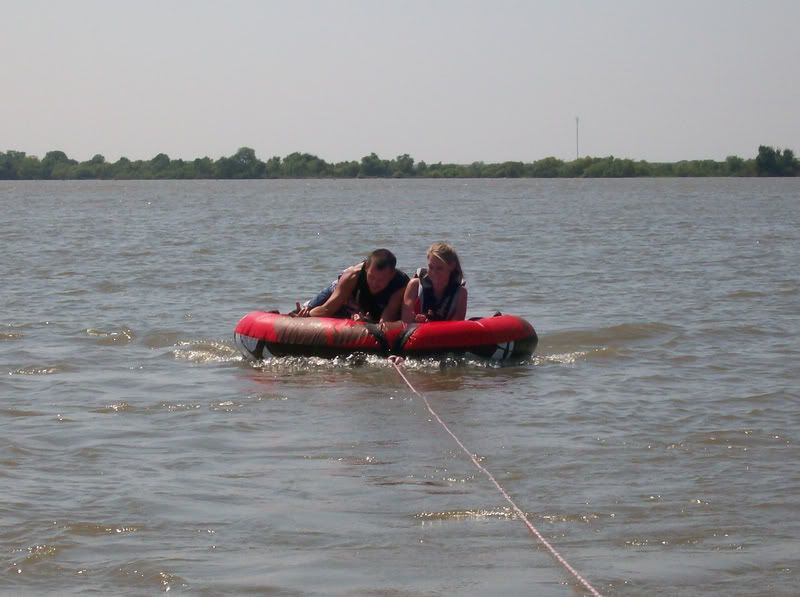 Then Monday Gavin had his first Dentist appointment! He did a really great job, wasn't scared at all. The assistant he had was really kind, and did an awesome job of introducing him to her "friends" (all the tools) and letting him know what they were going to help her do. I've never seen a kid so excited about getting a new tooth brush, toothpaste, and dental floss in my entire life! Dylan got one too for watching and so did Chase!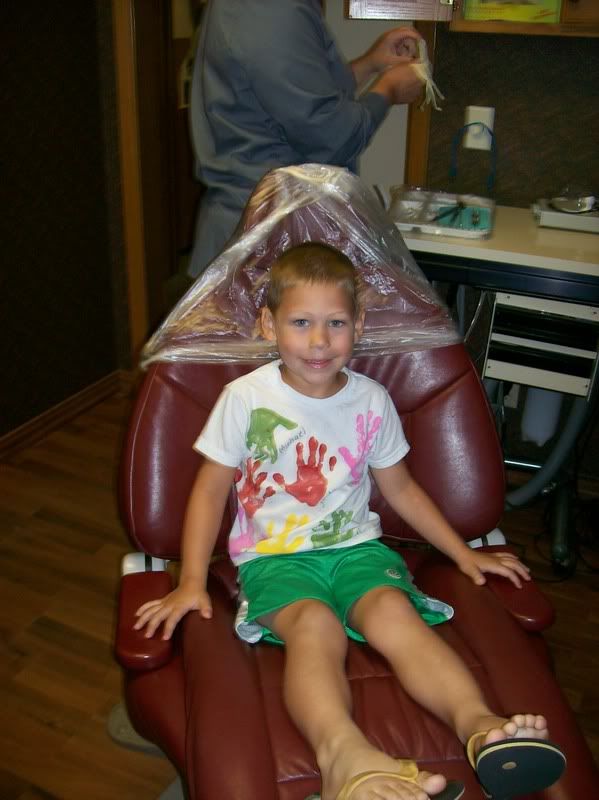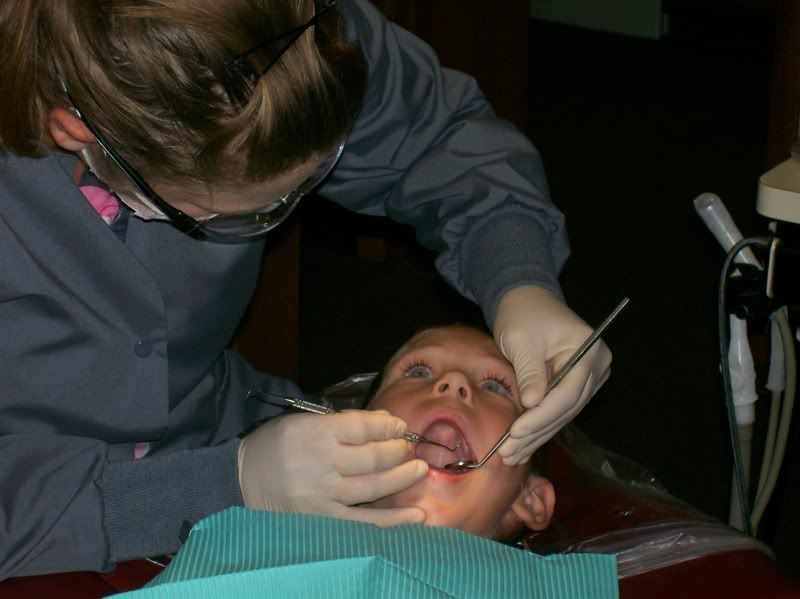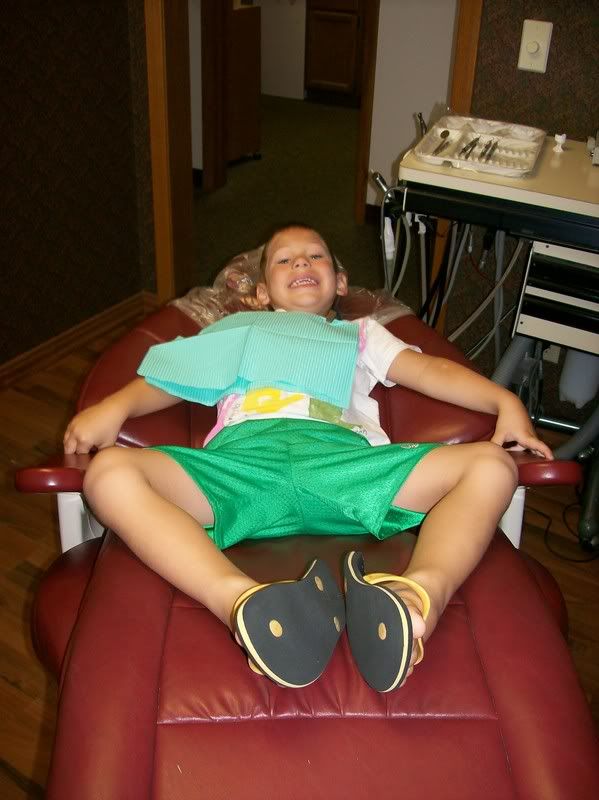 Everything turned out okay with his teeth. We're going to have to start watching what he's eating and get rid of the sugary stuff! But the dentist wasn't too concerned, just wants us to keep an eye on it.

Chris is doing good, he's working hard, and long right now since the weather was so awful last week. But thankfully it's been a bit cooler these last two days. I don't know how he does it, working outside in 100*+ weather. But he does, and for that I am thankful :)
I am still babysitting a million kids! lol School starts next week for Nic though, so that's one less during the day, and then school for Gavin, Dylan, Isabelle, Gabe and Jordan starts in September. That means during the day on Tuesday and Thursdays I'll only have my sister's three and Chase. Boy. that'll be a change!

Anywhoo, that's what's been shakin' around these here parts.

Until next time...