Since getting a new camera for Christmas... yea, that's right I got the Nikon D60 that I've been dreaming of!!!!! Thanks to my mom and dad (LOVE YOU!!!!) I have decided that I am going to start a diary of my day-to-day life with pictures. A picture blog so to speak, or as my Flikr friends call it a "365".
I started on January 1st so it would be easier for me to remember what day I'm on.
I will upload them once a week, hopefully.
Here are the first pictures of the "not so glamorous 365"
(and I've already forgotten two days in here, so bear with me, I'm trying to remember!)
365-1
An introduction of me

365-2
Putting baby to sleep
....
365-3
Fogotten
....
365-4
Yet another diaper change
365-5
Sick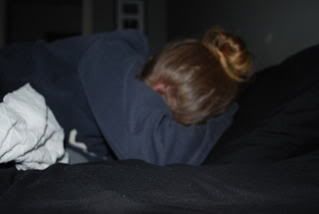 ....
365-6
Forgotten
....
365-7
de-germination