Christmas was really great this year. The boys had a ton of fun, and got a bunch of new, cool toys! Each year just gets better and better. I think it's because the boys are finally getting old enough to get excited really excited about Christmas and all it means. Not just the Santa part (which is really fun to do), but the magic of Christmas, the giving, seeing other people excited, and the miracle of Jesus' birth.
This year we had a few changes in the schedule from the previous years. But we still felt like we were running and going the entire holiday.
First, We had Christmas with Chris Grandma Unkel and the whole Unkel side of the family 1 week before Christmas. That's always fun because we get to see people we normally don't get to see during the year. It's absolute craziness though. That side of the family is sooo huge! It's fun for the kids though, because there's never a dull moment, and there a bazillion other kids running around.
Then we had Christmas with Chris' mom and his brother's and their families the Sunday before Christmas. They all came over here to our house, which was nice, because we didn't have to get everyone loaded up and get out! We had a table full of snacks, and we ordered pizza too. While we waited for the pizza to come, we decided to open presents. Gavin got a really awesome bike from Chris mom, and Dylan got a Hot wheels track and some cars. She also gave them a Spider Man lamp for their room, which they think is the coolest thing ever! They both got more than that, but those were the "big" gifts. Oh and Dylan got some Lightening McQueen crocks for Aunt Shara, which he absolutely LOVES! The kid wore them the entire night, slept with them and put them right back on when he woke up! I wish I got a picture of him, but I didn't... he was wearing nothing but his underwear and his crocks... it was hilarious.
Christmas Eve we spent the morning and afternoon at home, then it was off to Chris' brother Kevin's house for Christmas with the Greiving (Chris' mom's) side of the family. We were there until about 10 or a little after, then we came home and got Santa's cookies ready for him, and left some carrots out for the reindeer.
After the boys went to sleep it was time for Santa's elfs to get to work on setting up the presents!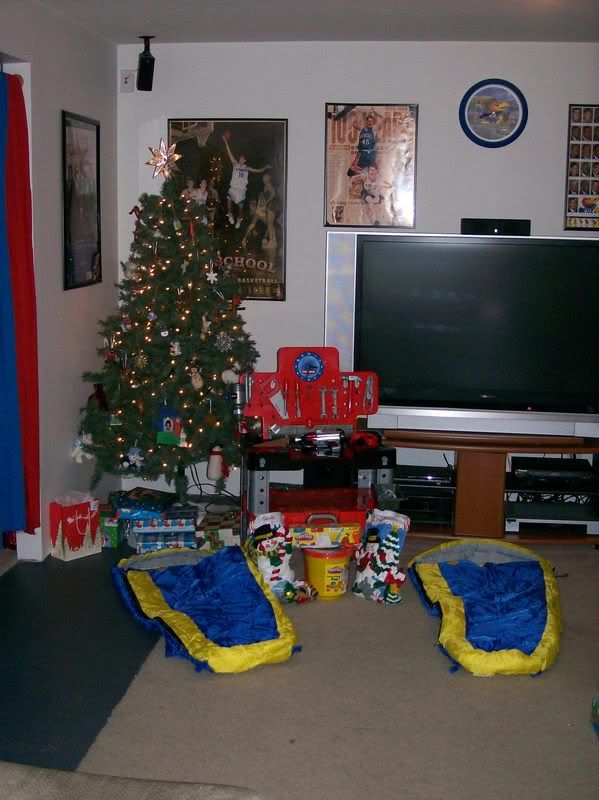 And while this elf was busy with that, here's what the other elf was up to...
The boys woke up about 8:30 Christmas morning and look what they saw!
Santa Came!!! He left a little note to let them know he enjoyed the cookies and chocolate milk, and appreciated the boys leaving carrots for the reindeer. He also let them know that their stocking were downstairs (because they normally hand on the fireplace upstairs), so they wouldn't think he took them!
After reading the note Santa left, we headed down to see what he had left behind for them.
At about 9:30 that morning my parents, brother, and grandparents (from AZ) came over and we opened presents from them.

After everyone left, we sat downstairs and played for a while, well, Chris cleaned up (I swear he has OCD!). then we all fell asleep, and took about a 3 hour nap! It was great!! When we woke up we got ready to go over to my parent's house and eat dinner and exchange presents with my sister and her girlies.
After dinner, and opening presents we broke out the good 'ol twister game.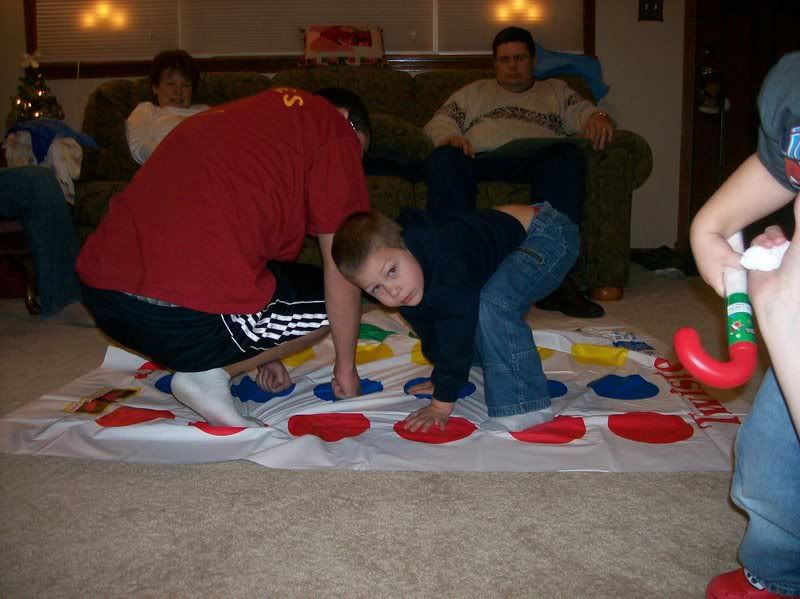 Luckily none of us old geezers broke anything while playing. And to think I used to think this game was a breeze! I guess that's one of the joys of getting older. lol
On the way home from my parents house Christmas night, we stopped by the video store and bought a few movies. We camped out in the basement that night and watched Teenage Mutant Ninja Turtles! It was really fun, and the boys got to use their new sleeping bags. :)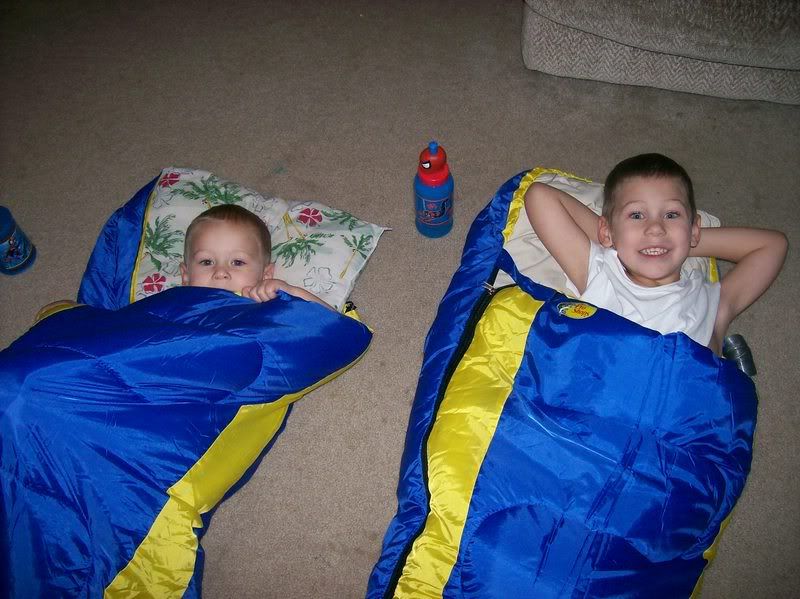 Well, that's about how our Christmas week went. Sorry it took me so long to get it all posted. I will get better at keeping it updated... sometime...I hope y'all had a great Christmas too!