As Dylan would say.
Well, that stink would be the smell of freshly applied paint! It was finally time to refresh our plain 'ol white walls and add a little something more to them than fingerprints, crayons, dents, and dirt.
I convinced Chris to go to Lowes with me last Friday and get the paint in the colors that I had picked out, and I started painting on Saturday.
I Chose a Sage greenish color for the living room, around the from door and the window on the stairs. And the rest of the walls are a creamy white color.
I know I'm probably insane for trying to do it by myself, but I also know that Chris really doesn't like to paint, plus he really has no time to even try to do it and I really don't mind doing it. In fact I actually find it relaxing at times. So I thought "hey, it won't be that bad"! Famous last words.... It wasn't horrible, but by the middle of the week came we were all tired of the house being a total wreck and eating easy meals such as Ramen, Mac-N-Cheese and frozen pizza. And we were just ready for it to be over and done with!
So this Saturday Chris had a golf tournament with the church, so he took the boys to his mom's house so I could have the whole day to get it all finished up. (I think he knew if he had gone golfing without arranging for the kids to be watched he would not have lived to go golfing. And my next post here would have been, I now understand why black widows kill their male companions! lol)
I didn't do it all without help though. My dad came over and helped paint the stairway, (because that required ladders, and well, me and ladders just don't get along.) my mom came over and helped for a bit, and my sister came over with lunch and helped too. I couldn't have done it without them! So a huge (in the words of Ellen)
HOLLA
to them and Grandma Alana (Chris' mom) for keeping the boys so it could get done!
It took about 5 days longer than it should have, but it's finally done, and I think it looks nice! I finally have some color and warmth to my walls that wasn't put there by a 2 and 4 year old!
Front door and Stairway:
The wall around the window still need a little touch up, hence the blue tape around the window!
The living room, and dining room: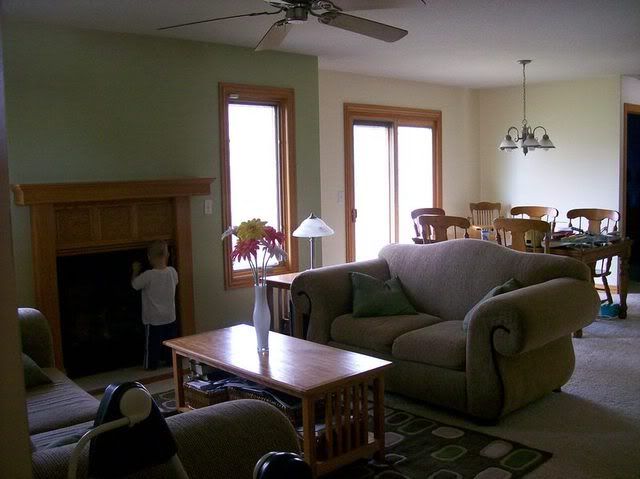 Kitchen:
Dining Room:

Living room:
I also did the boys' bathroom, but didn't take a picture because it was in use at the time I was taking them. I thought I'd spare you from that scene!
So there it is, all new and shiny, at least for the moment.