I had an absolutely wonderful day yesterday! I woke up and found a note from Chris telling me that my mom was going to come and get the boys at 1:30 and then Anita was going to take them from her at 6:00. So I had then entire afternoon all to myself, and then we went out to dinner that evening.
After mom came a picked up the boys I headed off to spend my birthday money at Wal-Mart! Yes, I said Wal-Mart. I went there because they have this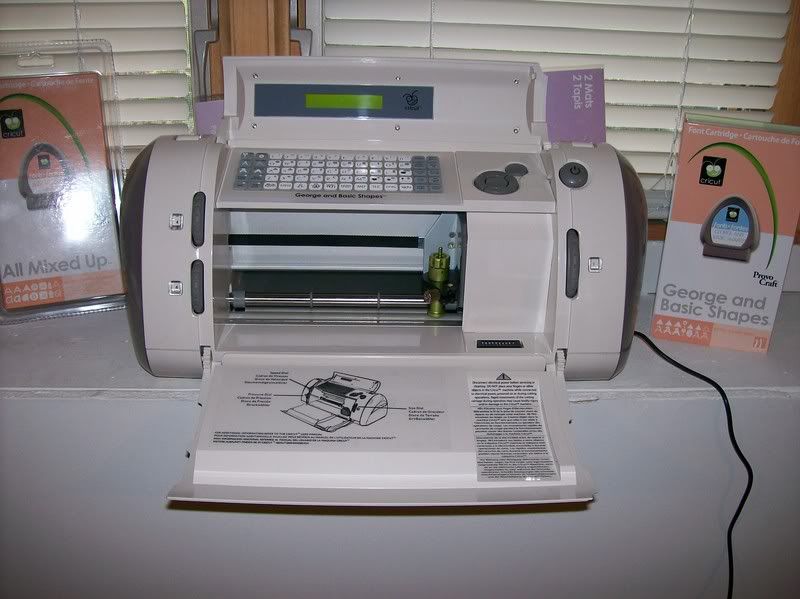 It's an electronic die cutting machine called a Cricut. I've been wanting it for a long time, but it's pretty pricey, so I decided that this is what I would spend my birthday money on, and I did! I stayed up until 11:00 last night messing around with it.... it's sooo awesome!! I feel like a little kid again!
After I got my new toy, I went home and played with it for a bit, took advantage of a quiet house and balanced the checkbook, and then headed out to the mall.
I just went to look, but ya know that never ends up happening! So I bought a pair of maternity shorts, and a top to wear to dinner that night. They were on sale though, so that made it all okay :)
I got home about 6:00 and Chris was already home. I got ready, and we left to have dinner. We tried a new restaurant called "Cheddars". It was really good, and really well priced. It kinda reminded me of an Applebees, but a little nicer, but that could be because it's new.
Then after dinner we went to my mom's house, and had Ice Cream Cake that Chris surprised me with. So all in all it was a really fantastic day, and it couldn't have happened without everyone that helped out. So thank you to mom, and Anita for taking care of my kiddos, and a huge thanks to my wonderful hubby who set it all up and surprised me.